Google started making a huge shift to mobile back in 2015 when they started giving priority to websites that were mobile friendly. You may have recently received the following notice about "mobile first" content: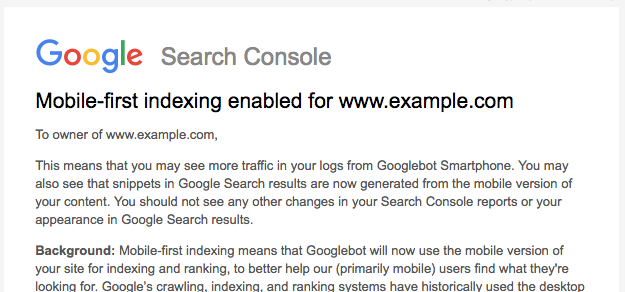 While called an 'experiment,' it's actually the first move in Google's planned shift to looking primarily at mobile content, rather than desktop, when deciding how to rank results.
If you have a responsive site or a dynamic serving site where the primary content and markup is equivalent across mobile and desktop, you shouldn't have to change anything.
If you have a site configuration where the primary content and markup is different across mobile and desktop, you should consider making some changes to your site.
Here are three important tips for adding content:
If you are adding structured data (specifically organized data to help search engines) to your blog, such as titles, prices, SKUs or ratings, avoid adding extra data that isn't relevant to the specific information contained in that page.
Use the robots.txt testing tool to verify that your mobile version is accessible to Googlebot.
Sites do not have to make changes to their canonical links; Google will continue to use these links as guides to serve the appropriate results to a user searching on desktop or mobile.
Still not mobile compliant? Your website may not be ranked as high, but it will still be searchable. Google says: "If you only have a desktop site, we'll continue to index your desktop site just fine, even if we're using a mobile user agent to view your site."

Want to chat more about these changes? Call your friendly Minneapolis Web Designer at 612.605.0822 or send us an e-mail!
Want to share this post?